Enjoy Expert Service Provided by Hyundai Certified Technicians
Is it time to bring your favorite Hyundai vehicle in for a routine maintenance? Or perhaps you are in need of more substantial repairs, and you want things done right the first time. Either way, Paramus Hyundai's team of Hyundai certified technicians has you covered.

Want to see exactly why teaming up with mechanics and service specialists trained by Hyundai is always the best way to preserve this important investment and ensure that your Hyundai car or sport utility vehicle (SUV) stays in top running shape for years to come? Then follow along as we bring you up to speed with everything you need to know about work done by our team of Hyundai certified technicians.
Why Opt for Work Done by a Hyundai Certified Technician?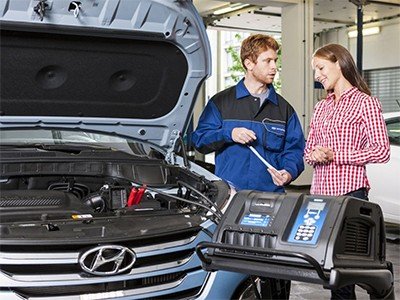 The big question that is probably crossing your mind right now goes a little something like this: "Why should I bring my Hyundai vehicle to a certified technician when I can just go down the street to a general mechanic?" While the difference between the two options presented in this quandary might not seem all that significant initially, this assessment couldn't be further from the truth.

Essentially, failing to bring your vehicle in for service at Paramus Hyundai and instead opting for an outside mechanic here in Paramus is a great way to limit the useful life of your favorite Hyundai vehicle. Aside from the fact that non-Hyundai certified technicians aren't trained exclusively to work with Hyundai cars and SUVs, these shadetree mechanics also lack the ability to work directly with Hyundai's team of engineers to refine and optimize the repair and service process.

To put it all in simple terms, the only way to get work done the way the men and women who painstakingly crafted these premium vehicles would want it done is by choosing to go with the most trusted team of Hyundai-approved technicians in Paramus.
What You Can Expect from the Paramus Hyundai Team
Now that you understand why it is so important to bring your vehicle to Paramus Hyundai for service here in Paramus NJ, let's spend a minute talking about what you can expect from our team. Aside from being greeted with a warm smile and a hearty hello, our Hyundai-trained mechanics and support staff members are proud to provide a wealth of services and perks, including:
All work done exclusively by factory trained and certified Hyundai technicians.
Quality inspections performed on 100 percent of vehicles handled by our team.
All of our Hyundai technicians have received exclusive training and certification directly from Hyundai.
All service comes with a 12-month service work guarantee.
Put all of this together and what do you get? How about the best service experience in Paramus provided by Hyundai experts that have years of experience when it comes to getting your Hyundai vehicle back out on the road and in like-new condition in no time.
Schedule Service Today
Now that you are completely up to speed with the reasons that make opting for work done by a Hyundai certified technician such a smart call, there is really only one question left to answer: Are you ready to come in to Paramus Hyundai today and get your routine maintenance or repair needs addressed in a timely, friendly, and expert fashion by our crew of Hyundai certified mechanics?

If so, feel free to call (201) 845-0701 today or click the button below to schedule your service appointment. Either way, we have no doubts that it will not be long before you find yourself back on the roads of Paramus and enjoying all that your Hyundai vehicle has to offer.